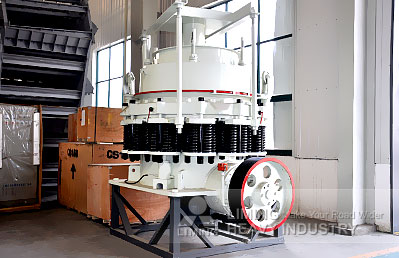 Type: Secondary Crushing
Input Size: 40-350MM
Processed Materials: 
Iron ore

, 

copper ore

, 

gold ore

, manganese ore, river stone, gravel, 

granite

, 

basalt

, mine ore, quartz, diabase, etc. (for hard stone)
Applications:
Aggregate field,concrete mixing plant,dry mortar plant desulfurization,quartz sand,etc.
The safety system uses dry oil and water as two kinds of sealed formation to make plaster powder and engine oil separate to make sure reliable performance. The type of crushing chamber depends upon size of feeding and fineness of crushed product. The standard type (PYB) is applied to medium crushing, the medium type is applied to medium or fine crushing and the short head type is applied to fine crushing.
Type

Max. input (mm)

Adjusting range of output (mm)

Capacity (t/h)

Motor power (kW)

weight (t)

Overall dimensions (L×W×H)(mm)

PYB

600

65

12-25

12-25

30

5

2800×1300×1700

PYD

35

3-15

5-23

5.5

PYB

900

115

15-50

50-90

55

10.2

3050×1640×2350

PYZ

60

5-20

20-65

10.2

PYD

40

3-13

15-50

10.3

PYB

1200

145

20-50

110-200

110

24.7

4152×2300×2980

PYZ

100

8-26

50-150

25

PYD

50

3-15

18-105

25.6

PYB

1750

215

25-60

280-480

160

50.3

4870×3800×4192

PYZ

185

10-30

115-320

50.3

PYD

85

5-15

75-230

50.4

PYB

2200

300

30-60

590-1000

260-280

80

7705×3430×4852

PYZ

230

10-30

200-580

80

PYD

100

5-15

120-340

81.4