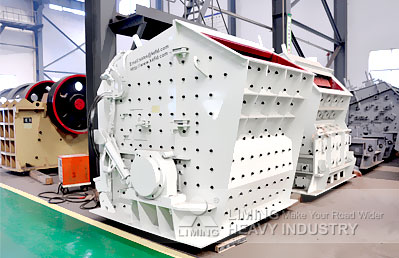 Type: Secondary Crushing
Input Size: 250-700mm
Processed Materials: 
Stone with compression strength lower than 350Mpa, such as 

limestone

, gypsum, concrete, etc.
Applications:
Ore crushing, railway, highway, energy, cement, chemical industry, construction, etc
The design of three chamber crushing make the PFW series impact crusher perform well in the fine crushing and superfine crushing operation.
The design of the two chamber crushing simplifies the flow chart of coarse crushing operation.
Table 1: for crusher with three crushing chambers
| | | | | | | | |
| --- | --- | --- | --- | --- | --- | --- | --- |
| Model | Rotor size (mm) | Feed opening (mm) | Max. Feed size (mm) | capacity (t/h) | Power (kW) | weight (t) | Overall dimension (mm) |
| PFW1210Ⅲ | Ф1150×960 | 570×990 | 250 | 70-120 | 110 | 15 | 2550×1870×2100 |
| PFW1214Ⅲ | Ф1150×1400 | 570×1430 | 250 | 90-170 | 132 | 19 | 2550×2310×2100 |
| PFW1315Ⅲ | Ф1300×1500 | 625×1530 | 300 | 180-270 | 160 | 25 | 2960×2570×2380 |
| PFW1318Ⅲ | Ф1300×1800 | 625×1830 | 300 | 220-300 | 200 | 30 | 2960×2870×2380 |
| PFW1415Ⅲ | Ф1400×1500 | 800×1530 | 350 | 280-350 | 200 | 33 | 3120x2650x2660 |
Table 2: for crusher with two crushing chambers
| | | | | | | | |
| --- | --- | --- | --- | --- | --- | --- | --- |
| Model | Rotor size (mm) | Feed opening (mm) | Max. Feed size (mm) | capacity (t/h) | Power (kW) | weight (t) | Overall dimension (mm) |
| PFW1210Ⅱ | Ф1150×960 | 1100×1030 | 400 | 90-160 | 110 | 17 | 2400x1870x2550 |
| PFW1210Ⅱ | Ф1150×1400 | 1100×1430 | 500 | 130-200 | 132 | 22 | 2400x2310x2550 |
| PFW1315Ⅱ | Ф1300×1500 | 1200×1530 | 600 | 180-320 | 160 | 29 | 2700x2570x2800 |
| PFW1318Ⅱ | Ф1300×1800 | 1200×1830 | 700 | 240-400 | 200 | 34 | 27002870×2800 |
| PFW1415Ⅱ | Ф1400×1500 | 1300×1530 | 700 | 300-480 | 200 | 38 | 2900x2700x300 |