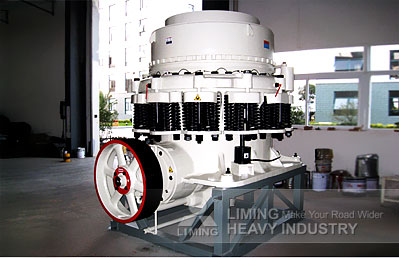 Type: Secondary Crushing
Input Size: 83-369MM
Processed Materials: 
Iron ore, copper ore, gold ore, manganese ore, river stone, gravel, granite, basalt, mine ore, quartz,diabase,etc. (for hard stone)
Applications:
Aggregate field,concrete mixing plant,dry mortar plant desulfurization,quartz sand,etc.
The design was as simple as possible with features that were user friendly, and craftsmen with many years of experience built the frames and components for ruggedness and durability with American steel and pride in their work.
Model

Dia. mm (feet)

Cavity

Feed Opening

Outlet Setting (mm)

Shaft Speed (r/min)

Power (kw)

Capacity (t/h)

Closing Side (mm)

Open Side (mm)

CSB75

900 (3′)

Fine

83

102

9-22

580

75

45-91

Coarse

159

175

13-38

59-163

CSB160

1295 (4 1/4′)

Fine

109

137

13-31

485

185

109-181

Medium

188

210

16-38

132-253

Coarse

216

241

19-51

172-349

CSB240

1650 (5 1/2′)

Fine

188

209

16-38

485

240

181-327

Medium

213

241

22-51

258-417

Coarse

241

268

25-64

299-635

CSB315

2134 (7′)

Fine

253

278

19-38

435

315

381-726

Medium

303

334

25-51

608-998

Coarse

334

369

31-64

789-1270
Short Head
Model

Dia. mm (feet)

Cavity

Feed Opening

Outlet Setting (mm)

Shaft Speed (r/min)

Power (kw)

Capacity (t/hour)

Closing Side (mm)

Open Side (mm)

CSD75

914 (3′)

Fine

13

41

3-13

580

75

27-90

Coarse

33

60

3-16

27-100

CSD160

1295 (4 1/4′)

Fine

29

64

3-16

485

160

36-163

Medium

54

89

6-16

82-163

Coarse

70

105

10-25

109-227

CSD240

1676 (5 1/2′)

Fine

35

70

5-13

485

240

90-209

Medium

54

89

6-19

136-281

Coarse

98

133

10-25

190-336

CSD315

2134 (7′)

Fine

51

105

5-16

435

315

190-408

Medium

95

133

10-19

354-508

Coarse

127

178

13-25

454-599