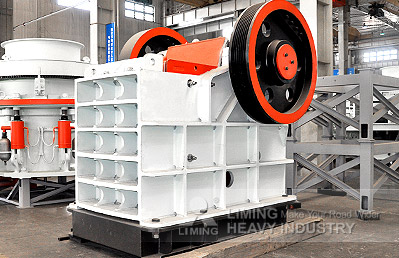 Type:Primary Crusher
Input Size: 560-800 mm
Processed Materials: 
Iron ore, copper ore, gold ore, manganese ore, river stone, gravel, granite, basalt, minerals, quartz, diabase, etc.
Applications:
Mining, metallurgy, construction, highway, railroad, and water conservancy, etc. 
It is based on the design concept of high input – high output, integrating the characteristics of low power – high productivity. Practice has proved that HJ series jaw crusher, with its excellent performance, reliable quality and high cost-effective, has won the trust of customers around the world, being an ideal upgrade alternative of the traditional jaw crusher.
| | | | |
| --- | --- | --- | --- |
| Model | HJ98 | HJ110 | HJ125 |
| Input opening size (mm) | 650×980 | 800×1100 | 950×1250 |
| Max feeding particle size (mm) | 560 | 660 | 800 |
| Adjustment range of discharging (mm) | 100-200 | 100-200 | 125-225 |
| capacity (t/h) | 170-410 | 215-510 | 306-650 |
| Rotation speed of eccentric shaft (r/min) | 270 | 260 | 230 |
| Motor power (kW) | 90/110 | 110/132 | 132/160 |
| Overall dimension (mm) | 2470×2000×2180 | 2875×2472×2530 | 3320×2600×3120 |
Diagram 2 supporting equipments parameter
| | | | |
| --- | --- | --- | --- |
| Model | HJ98 | HJ110 | HJ125 |
| Electromotor | Y315L1-8 | Y315L2-8 | Y335M1-8 |
| Hydraulic jack | RC-10T | RC-10T | RC-15T |
| Electric cabinet | 90 /110 Kw | 110/132Kw | 132/160Kw |
Diagram 3 capacity data
| | | | |
| --- | --- | --- | --- |
| Model | HJ98 | HJ110 | HJ125 |
| Capacity (t/h) | 170-410 | 215-510 | 306-650 |